There's nothing better than hitting the open road with your canine companion along for the ride. Unfortunately, your dog's unconditional love doesn't stop it from shedding or drooling and turning your nice clean car into a slobbery, hairy mess. But have no fear! There are many ways and products to make your car dog-proof.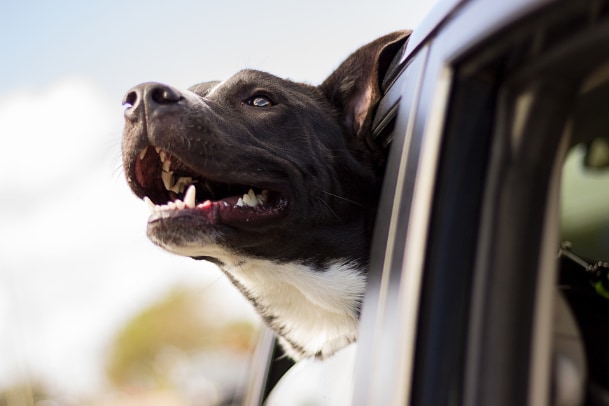 Seat Covers and Liners
The most popular method for dog-proofing is seat covers or cargo liners. Like we mentioned before, dogs love infinitely but that doesn't stop their hair from coating your car. Seat covers are a quick and easy solution for keeping the hair cleanup minimal.
In addition, these covers or liners can protect your seats from an eager dog's claws. Your dog may not mean to scratch up your vehicle's seats, but if the seats are leather it's better to be safe than sorry.
Door Guards and Window Coverings
Dogs. Love. Windows. This is especially true if you're driving and just outside your vehicle are thousands of things to smell and sights to see.
A good solution for protecting your door's interiors are door guards. These guards are easy to install and allow your dog to do their thing without having to worry about scratches while they stick their head out the window.
But what if you're planning on keeping the window closed and want to avoid dog smears on your window? There's an easy solution for that… clear plastic wrap! Simply wrap up the window before you get cruising and afterwards take it off with no hassle! Plus, the wrap won't obscure your vision while you're driving.
Have a Set Spot for Your Dog
Some experts recommend having a set spot for your pup. This will make cleanup a whole lot easier and make your drive safer as well.
One good solution for this is installing a mesh net barrier behind the driver and front-passenger seats. Once again this won't obscure your view of the road but will prevent Spot from jumping into the front seat while you're attempting to make a lane change. In addition, you can find some of these nets for around $10 online so that's a small price for a little extra dog-proofing.
Clean Up Accidents Quickly
Accidents happen. But if it's in your car, things can get really bad, really fast. Experts recommend you take care of these unfortunate situations quickly. Otherwise the smell or damages might be more permanent than you'd like.
As soon as Rover makes an oops in your back seat, pull over and handle the situation. Trust us, you'll be grateful you did. It can be helpful to have a bottle of pet stain and odor remover along for the ride so that lingering smells or damage is taken care of and you can continue to enjoy your drive.
In the end, we recommend doing whatever you feel will keep your dog, car and drive safe. If you're looking for more tips on how best to transport man's best friend or a new vehicle that is better equipped for your drives, come on down to
Larry H. Miller Toyota Colorado Springs
and we would be happy to help you out.