Bring your lease return to Toyota Colorado Springs -

We can handle your lease return contract with NO HASSLE!
What Are The Benefits of Leasing a Toyota?
Toyota's leasing programs give you the freedom to get into the vehicle you want to drive while meeting your budget needs. Choosing to lease a vehicle vs buying one really boils down to you. Ask yourself: what's important to me? What are my priorities?
Here at Toyota Colorado Springs we want to make sure you are making the right car lease-versus-buy decision and because of that are offering lease vs buying faqs. You can also fill out the form to your right and ask one of our trained professionals about a vehicle and program that best fits you lifestyle!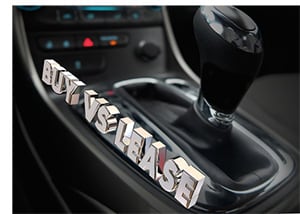 Lease if you - 
Enjoy driving a new car every 2-3 years
Want lower monthly payments
Like having a car that has the latest safety features and is always under warranty
Don't like trading and selling used cars
Don't care about building ownership equity
Have a stable predictable lifestyle
Drive an average number of miles
Properly maintain your cars
Are willing to pay more over the long haul to get these benefits
Understand how leasing works
Buy if you - 
If you don't mind higher monthly payments at first
Like driving your car for more than three years at a time
Prefer to build up some trade-in or resale value (equity)
Enjoy the idea of having ownership of your car
Like paying off your loan and being payment-free eventually
Don't mind the unexpected cost of repairs after warranty has expired
Drive more than average miles
Prefer to drive your cars for years to spread out the cost
Like to customize your cars
Don't like the risk of possible lease-end charges
Toyota Leasing Frequently Asked Questions:
What is the cost at signing?
The amount you pay at lease signing may be lower than the amount you pay at the beginning of a finance contract.
What does the Toyota leasing cost at signing include?
 first month's payment
 acquisition fee
 refundable security deposit
 taxes and fees
 capitalized cost reduction (similar to a down payment)
Can I purchase my lease vehicle?
You'll have the option to purchase your lease vehicle during the lease or at lease-end.
What are the mileage limits on my lease vehicle?
The total allowable mileage disclosed on the lease agreement is calculated by dividing the number of months in the term by 12 and multiplying this amount by 15,000 (standard lease) or 12,000 (low mileage lease).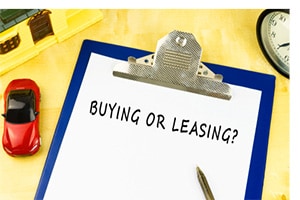 For example, a standard lease with a 36 month term is calculated as follows: 36 month term divided by 12 = 3 years; 3 years multiplied by 15,000 miles = 45,000 total allowable miles.
What lease-end charges should I expect?
You will be charged for any excessive wear and use. It really all just depends on how you treat your leased vehicle.
Are there tax benefits associated with leasing?
If you use your lease vehicle for business, you should consult with your tax advisor regarding potential tax benefits.
What happens at the end of my lease?
At lease end you may purchase the vehicle or return your vehicle at the end of your lease and satisfy your remaining obligations as described in your lease contract. A key feature of this option is that there is no need to sell your vehicle - just return it to a Toyota dealer. You may have to pay fees or charges associated with the end of your lease, as described in the lease agreement.
Schedule a Leasing Consultation Today