LARRY H. MILLER CHARITIES
Formed in 1995, Larry H. Miller Charities (LHM Charities) is a nonprofit foundation that functions as the charitable arm of the Larry H. Miller Group of Companies. Assistance from the foundation is directed toward groups and programs based in the communities where Miller companies conduct business. Attention purposely focuses on issues that affect women and children, with an emphasis on health and education. Funding for LHM Charities enables the foundation to continue making an impact. Funds are generated, in large part, through LHM companies and employee contributions, as well as donations from the general public through fundraisers in the community. These contributions remain in the state where they were donated to benefit the local community. Since its inception, Larry H. Miller Charities has assisted a multitude of organizations and worthy causes.
Colorado Springs Therapeutic Riding Center
The Colorado Springs Therapeutic Riding Center has been offering professional Hippo-therapy and therapeutic riding programs for children and adults for years. They offer equine-assisted therapies and Hippotherapy to children and adults who are living with physical, cognitive, emotional, behavioral and learning challenges related to various forms of trauma, developmental delays, autism, cerebral palsy, blindness, deafness, down syndrome, muscular dystrophy, multiple sclerosis, batten disease, and cancer.
The Home Front Cares:
Is a local military charity in Colorado Springs that assists with emergency aid services for military members, veterans and their families. Approximately 10 board members from The Home Front Cares were in attendance when $20,000 was given to The Home Front Cares from LHM Charities and Toyota of Colorado springs. Larry H. Miller Toyota in Colorado Springs is a proud supporter of a special nonprofit that literally keeps a roof over the heads of Colorado veterans and military families. Since 2003, The Home Front Cares has raised more than $7.6 million to aid Colorado veterans and military families with emergency grants that pay essential life expenses like rent and utilities. 
The Home Front Cares provide emergency grants to pay essential life expenses like rent, utilities, and car repairs. We serve all of Colorado, and have strong partnerships throughout the state with other non-profit and referral agencies, military installations, the VA and other veteran service organizations. Our case workers provide referral services to many of these agencies, ensuring our clients receive financial, family and emotional counseling and services, even when they do not qualify for our financial support.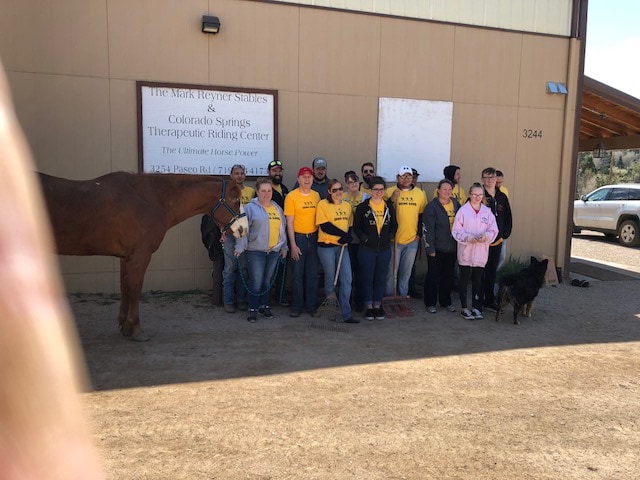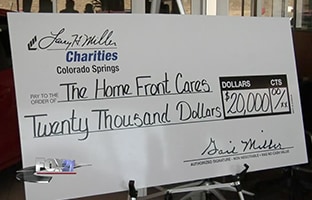 Marian House:
The Marian House is a division of Catholic Charities that provides assistance to those in great need in our community. The Marian House has not only a soup kitchen that provides more than 700 meals a day, but provides services through their Life Connections and Life Support Center. 
The Early Literacy program is an initiative through the Life Connections Program in conjunction with the Pikes Peak United Way's school readiness initiative Success By 6. This program addresses the importance of reading to  a child in the  first six years of life and focuses on preparing the child to be ready for kindergarten. The program provides age-appropriate books to Catholic Charities' clients who have young children. We are collecting new and gently used books for children aged infant to six years old. On the Day of Service our employees will sort the books by reading level and prepare them for transport to the Marian House.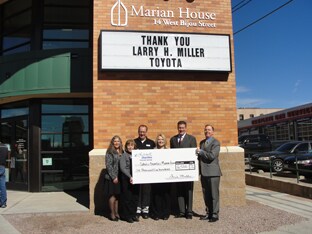 Kidz Klozet:
The Kidz Klozet & Safe & Secure Kidz are programs that support, encourage and assist women in carrying their pregnancies to term and in caring for their babies after birth. They learn valuable parenting tools and skills, are provided child development and safety information, referrals and assistance with securing needed baby items that will help their babies grow and thrive. The program rewards learning, fosters responsibility, and nurtures relationships in a way that helps young moms earn things they may need for their baby. Expectant and new moms can enroll in the program in which Kidz Kash is earned by attending prenatal nurturing or childbirth classes, counseling and pre-natal appointments and for doing healthy behaviors for themselves and their babies. The Kidz Kash is redeemed at the Kidz Klozet. We are sponsoring a drive to collect needed items for the Kidz Klozet.
Catholic Charities:
At Catholic Charities, they understand that everyone has a different story. They work on taking people from crisis to stability, to weather the current storm or to heal a broken spirit. Serving everyone in need regardless of religion, race, gender, age, disability, socioeconomic level or background the Catholic Charities are here to help. We are happy to say that we were able to help Catholic Charities with a donation to help all those in need during the holiday season. If you would like to learn more about Catholic Charities please click here. If you would like to donate, please click here.
Mount Carmel Center of Excellence:
Mt. Carmel Veterans Service Center has changed the way that Military communities live in Colorado. Their community focuses on supporting military heroes by providing them of various challenges that veterans face every day. They make it easy by bringing together many passionate partners to simplify the process of getting the help and assistance these veterans need. Some of the services they offer are: behavioral health counseling, employment and transition support, job placement, benefits support, non-clinical case management, housing assistance, financial coaching, legal assistance and education assistance. If you would like to learn more about the Mount Carmel Center of Excellence please
click here
.
Safe Passage Charity
Since being founded in 1994, Safe Passage has helped over 19,000 children who have experienced abuse. They want to help minimize the trauma to children who are victims of abuse by offering support, medical, investigative, social, legal and mental health service to any child who has been affected by abuse in their life. Safe Passage annually serves over 900 children and a large part of that help is from people just like you who are able to volunteer or donate to their organization. If you would like to volunteer or donate, please visit the
Safe Passage Charity
website to do so. If you suspect that a child is in danger, don't wait to call! Call the hotline at 1-844-CO-4-KIDS.
Monroe Elementary
Recently, we replaced the carpets in local Monroe Elementary School. The carpets were very old and the school could not be cleaned anymore. The rugs were over 10 years old and were in need or replacements. We bought the school new rugs for their classrooms and they will be delivered and installed in early January. This will be a surprise for all the kids as they return from Winter break. 
Hospital Center Food Drive
We are apart of the 627th Hospital Center Food Drive. We will be serving as a drop off location for the drive. The mission of this drive is to provide support in the form of donating non-perishable and hygienic items to our military brothers and sisters serving in the U.S. Coast Guard during the current partial government shut down. 
The available to be donated are: cheese or peanut butter crackers, beef jerky, applesauce, pudding, fruit cups, granola bars, power bars, cereal, cereal bars, single serve pasta items, single serve soups (with pull tab openings), ramen noodles, tomato juice, packaged nuts, trail mix, fruit snacks, dried fruits, peanut butter and jelly, any kind of pasta, spaghetti sauce, canned vegetables and fruit (with pull top openings), macaroni and cheese, individually packaged chips/pretzles/goldfish, boxed drinks and juices, vienna sausages (with pull top lids), pop tarts, individual packages of oatmeal, canned tuna, bags of rice or beans, Jiffy cornbread and cookies.
Stuff For Students
Right before the start of a new school year, Larry H. Miller Dealerships come together with one common goal. To gather school supplies for children who can't afford it. Since the start of Stuff for Students, Colorado Larry H. Miller dealerships have raised close to $230,000 in school supplies that have benefited more than 200,000 Colorado students. Through the end of August, Larry H. Miller Liberty Toyota Colorado Springs and Larry H. Miller Toyota Colorado Springs dealerships - with the help of customers and employees - will look to fill a car, truck or SUV in each of their showrooms with school supplies such as backpacks, pencils, highlighters, scissors, binders, rulers, calculators and lunch bags.
Colorado Springs Conservatory
We were recently able to help out the Colorado Springs Conservatory with a donation to help fund their quest to teach people about the fine arts in Colorado Springs. The Mission of the Colorado Springs Conservatory is to "Inspire, motivate, and challenge students, to aspire to their highest potential as human beings and artists, through arts immersion studies, and community arts advocacy." They do this through a variety of ways all of which would be impossible without the help of donations and volunteers. To learn even more, please visit the
Colorado Springs Conservatory
website. 
Habitat for Humanity
To Celebrate our 2019 Day of Service, we partnered up with Larry H. Miller Liberty Toyota and Habitat for Humanity to help build some houses for families in need. The goal of Habitat for Humanity is to build homes for people who are in need. Every year, Larry H. Miller celebrates our founders birthday by going out and doing good in the community.