Hi. My name is Everton Allen here at Larry H. Miller Toyota Colorado Springs in Motor City. This is the new
Toyota Corolla
. Great safety features are available on these as well: you do get your lane departure to warn you if you are drifting into another lane. Your adaptive cruise control allows you to, when you're on the highway, if you put your vehicle in cruise, if the car in front of you starts to slow down, then so will your Corolla. If you start drifting the car will basically pull itself back in by tugging on the wheel and taking you back into your lane.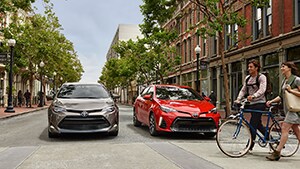 The other nice thing is having what is called a sport mode button. If you're driving on a very winding road you can just press that button and that allows you to be more in your lane and just a bit more stable by firming up the feel of the suspension. Check out the 2018 Toyota Camry at Toyota of Colorado Springs for a fun, sporty drive.
If you notice, in the back-seat area, you do have plenty of leg room. Toyota also put a spoiler on the Corolla, and that also gives you a backup camera as well. Again, this trim is the SE which is the sporty edition. So that is the reason you also get your chrome tip tail pipe. 
When it comes to MPG, you get
35 on the highway and 28 in the city
. Toyota gives two-year
maintenance on this car as well as two-year road side assistance.
It also has a nice touch screen as well that allows you to connect your phone via Bluetooth technology and you can do your navigation from your phone and play it through your speaker system, along with your music and more.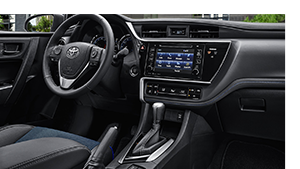 The alloy wheels they put on this vehicle are nice it goes very well with this Camry car. You also get fog lights and
LED lights
which is right here. And you also have your honey comb grille in the front. Again, this is the Toyota Corolla from Toyota of Colorado Springs, and it's one of Toyota's best-selling vehicles on the road compared to all its competitors. If you have any questions or want a test drive, please come down to
Larry H. Miller Toyota Colorado Springs
here in Motor City - see you soon!