Hi. My name is Everton Allen at Larry H. Miller Toyota in Toyota Colorado Springs. I just wanted to talk about the new
2019 Toyota RAV4
. Now it comes with what they call
Bird's Eye View cameras
. With the Bird's Eye camera, it allows you to get what is called a 360 view, so you can see around you for safety. One of the cameras is located here in the grille, another is located basically here in the mirror and one in the hatch, which is here in the rear, and you also have another one which is stationed up here.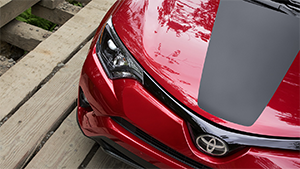 The nice thing about having those cameras is again it gives you a nice view of where you parked your car before heading out of the garage. Safety is one of the main features on the Toyota and that is a lot of the reason these come standard on a lot of the models especially when you're going into the hybrid. 
The door is what is called a smart system, so when you put your hand here it automatically unlocks the driver's side door. Once you open the door, then you can unlock the rest. If you decided that you wanted to unlock the door from the passenger side, then that will unlock all five doors including your trunk space. Toyota built their vehicle with what is called Soft Tech Leather here on the seats. Power adjust seats allow you to adjust the seats to your level. Not only that, if someone else would happen to drive your vehicle and you didn't like the fact that they moved your seat, you have the permanent settings here that put it back in memory. 
This eight-inch screen in the
Toyota RAV4 SUV
comes with navigation at Toyota of Colorado Springs. AM and FM radio, XM radio, Bluetooth and safety features. This comes with lane departure which allows when you're driving, if your drifting it alerts you. You also get a little tug on the steering wheel that will bring you back. Another nice feature in the 2018 RAV4 is called dual climate control, which allows the driver and passenger to have their own temperature settings.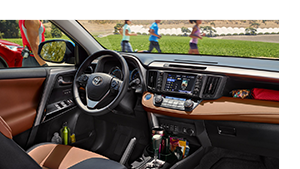 If you take a look here in the back, Toyota also has a very large cargo area. You also get the 60/40 split, to allow you to put more cargo in your vehicle. Every Toyota comes with a
two-year maintenance and a two-year roadside assistance. The two-year maintenance covers 25,000 miles
and the two-year road side assistance starts the day of purchase and runs to the anniversary date. The nice thing about this is you still have your little storage here where you also have your full-size spare tire. The nice thing is that not all manufacturers still give you the full size. You also have your blind spot monitor as well. Again, my name is Everton Allen here at
Larry H. Miller Toyota in Colorado Springs
. Come by and check out this fantastic, sporty SUV!