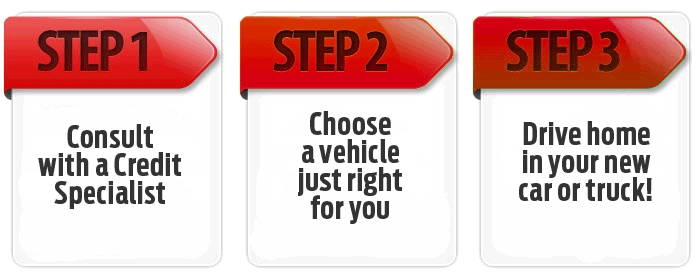 Don't look back--You're not going that way!
What do you have to lose?

Our secure online application takes just a few minutes to complete
Car Financing
UNDERSTANDING CREDIT: HOW TO GET FINANCED.
Our onsite credit specials understand that bad things can happen to good people, and if your credit is challenged, or you are going though a bankruptcy, or just want to refinance your current auto loan give us a try. Allow one of our trained credit specialists to work with you to find a suitable financing option, and just because your credit score isn't great, that doesn't mean you have to pay a high rate or not get the vehicle that fits your wants and needs. With our 55 store buying power, we're able to leverage our relationship with lenders and banks all over the country to get you the most competitive and affordable rates possible. 
There are many factors that come into play when a creditor makes a decision on weather or not to give you a loan for purchasing a vehicle. The four top reason are: 
Application Information, Credit History, Down Payment, and Vehicle Selection.
Application Information: Information you provide such as employment, residence and income information.
Credit History: Information of all other credit in your credit file.
Down Payment: The amount of money you are putting toward the vehicle or the total value of our trade.
Vehicle Selection: The year, cost, and the mileage on a vehicle. 
Your budget is the most important thing when buying a car and getting approved for finance. This includes how much you make to how much you pay already in bills. Also, having a nice down payment will increase the chance of better rates and monthly payment. It doesn't matter if you have low credit, dealing with bankruptcy, you have no credit, going through a divorce, or are a first time buyer Toyota Colorado Springs can help.
Why Choose Toyota Colorado Springs? 
Larry H Miller Toyota Colorado Springs, CO understands that times are tough and getting approved is not as easy as it sounds, but we are here to help and have built an entire department designed to help those in need by finding you a reliable vehicle while rebuilding your credit. Fill out our quick and easy Approval form online or come on in today, and let our credit specialists help you get back on track.
Receive useful advice and information about your current auto loan, Learn about finance while in a bankruptcy chapter 7 & 13, and learn there are programs that can help lower your interest rate a full 2% per year. Experience service and quality with our credit specialists at Toyota Colorado Springs, and let them assists you in your future good credit. Our lenders report to all three major credit bureaus (Experian, Equifax, and Transunion) so that you'll start rebuilding your credit instantly. Toyota Colorado Springs makes the approval process easy with as little as $0 down and simple qualifying (driver's license & pay stub). The door to your new vehicle is easy to open.
Call us at (888) 654-5821 to learn more!
Top 10 Reasons
We Will Help You Today!
98% of our applicants get approved for a loan
We specialize in providing auto loans for people with poor credit

We can find you the vehicle you want and fits your budget
We have an Interest Rate Reduction Program
Some applicants qualify for 0% down-payment
You can get pre-approved saving time at the dealership
We have years of experience
We believe everyone deserves a second chance
We know that credit problems can happen to anyone at anytime

We want you to see this as a stepping stone and once you repair your credit we want to sell you the new car of your dreams!